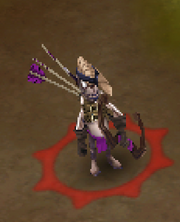 Thunk One-Eye, the main boss of the Brackenridge Village, is a one-eyed goblin archer. He has a chance to drop the egg of Deary, a purple deer. If he spawns during the battle with Ghul Bellybottom, the player does not receive Ghul's achievement.
How to defeat this boss
Attack him in a party and corner him. Use all your power to attack. Then, kill all the other goblin archers.