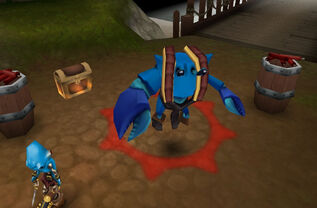 Captain Bluecrab is one of the pirate leaders who led the raid upon the Kraken Isles.
He, along with his assistant Sully Skullcracker, raided the Windmoore Harbor area of Kraken Isles.
While walking towards you, he will set traps on the ground: if you're trapped in them, you will lose a lot of health, and you will see your character losing a lot of blood.
After being killed there, the entrance to The Dragon's Jewel is open.
He is quite difficult to kill, so you need to be in a party in order to kill him.
A good tactic for rogues or mages is to just stay back to the boss. Warriors can charge in and take the damage
Ad blocker interference detected!
Wikia is a free-to-use site that makes money from advertising. We have a modified experience for viewers using ad blockers

Wikia is not accessible if you've made further modifications. Remove the custom ad blocker rule(s) and the page will load as expected.