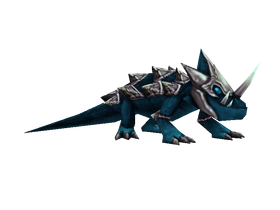 Breeze is one of the armored lizards available in Arcane Legends. He is a blue lizard with a silver armor and light blue eyes. He's classified as 'legendary'.
Stats and Abilities: Happiness Bonus: +15 primary stat, +10% damage, +6% crit, +5 Mana Regen.
Edit
Arcane Ability: Ice Hole = Medium AOE that freezes nearby enemies and causes them to take damage. Players standing in the area will gain increased damage temporarily.
Passive Ability: Frozen Bile = A ranged attack that strikes multiple targets, slowing their movement speed, reducing their hit chance, and possibly freezing them.
How can I get it ?
Edit
Purchased as an egg with Planar Fragments from the Merchant in Planar Tombs.
You can purchase him in the Auction House.
Breeze's egg is tradeable.
Ad blocker interference detected!
Wikia is a free-to-use site that makes money from advertising. We have a modified experience for viewers using ad blockers

Wikia is not accessible if you've made further modifications. Remove the custom ad blocker rule(s) and the page will load as expected.